Jersey care inquiry: Fostered woman 'emotionally abused'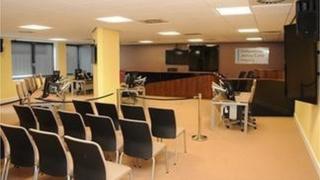 A witness has told the Jersey care inquiry she was fostered in the 1970s by an alcoholic who "emotionally abused" her.
Giving evidence anonymously, Miss B said she was now surprised the 13-year placement was allowed.
A neighbour worked for children's services and knew the foster mother drank heavily, she said.
Miss B said her own son is now in foster care but children's services is much better nowadays.
Now in her 40s, the woman was fostered at the age of three when her real mother, then aged 17, was "railroaded" into giving her up.
'Emotionally abusive'
She said her 13 years with the foster family had been unhappy and caused her to miss out on her real family's lives.
Her foster mother was "emotionally abusive", said Miss B, although she was very close to her foster father, who made breakfast and got the children ready for school.
She never experienced physical abuse but said her foster mother favoured her adopted foster brother, imposed a strict Catholic lifestyle and bad-mouthed her real family.
The woman told the inquiry the experience had left her without the emotional and practical skills to properly look after her own children, one of whom is now in care.
She said social workers' interventions with her own son were much more positive than when she was in care.
"My foster mum was an alcoholic and I believe her behaviour towards me amounted to emotional abuse," said Miss B.
"I believe that my life has been messed up as a result. I've always felt quite immature and attention-seeking. I never learned any life skills.
"If I had the right foster parents, if it had been somebody else, I think I could have learned from a proper family set up."
The Independent Jersey Care Inquiry is investigating child abuse in Jersey's care system since 1945.
It will focus on - but is not restricted to - the Haut de la Garenne care home during the 1960s.