New rights for widows in Jersey under proposed laws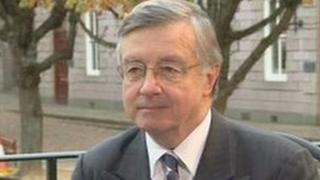 Spouses could win the automatic right to stay in their matrimonial home if their partner dies, under proposed new laws.
Jersey's legislation advisory panel is consulting on changes to the wills and succession law governing how property is passed on.
Presently widows have some security under "dower rights".
Senator Sir Philip Bailache, panel chairman, said more protection is needed.
Currently, spouses or civil partners are entitled to "the life enjoyment" of one third of their late partner's estate.
'Financial agreements'
That can potentially result in widows having to pay rent to whoever inherits the other two thirds.
"There remain potential situations in which the right to the life enjoyment of one third of the deceased spouse's or civil partner's property would not prevent the surviving party from being forced out of his or her home," said the Chief Minister's office, which is proposing the change.
"Such a situation might arise, for example, if a surviving party were unable to maintain a financial agreement to pay rent to the individual or individuals who had inherited the remaining two-thirds of the property."
The proposed change to the law would give surviving spouses the automatic right to lifetime enjoyment of the matrimonial home whether or not it is left to them.
Islanders have until 30 November to comment on the consultation.