Jersey drink-driving limit could be cut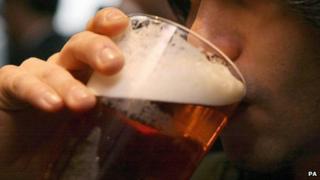 Restrictions on drinking and driving could be increased and licensing hours staggered in Jersey.
The proposals have been included in the Alcohol and Licensing Strategy, which aimed "to reduce the harm caused by alcohol misuse", a States report said.
The report said the island experienced a higher level of alcohol-related hospital cases compared to England.
The States may look at changes in the law after reviews carried out for the strategy are completed in 2015-16.
'Public safety benefits'
The strategy, published by the Council of Ministers, said the population of about 99,000 drank roughly the equivalent to 130 bottles of wine per person per year.
It said in 2010 there was a rate of 2,065 per 100,000 admissions to Jersey General Hospital which were attributable to alcohol - at an estimated cost to the hospital of £2m per year.
This was above the average rate of 1,898 per 100,000 in England, it said.
Meanwhile, about 200 people a year were being charged with being drunk in charge of a vehicle.
The maximum legal level of alcohol in the blood when driving is 80mgs per 100mls of blood in Jersey. In most other European countries, the limit is less, usually 50mg per 100ml of blood.
Depending on the findings of a review looking at the proposed strategy, the States may look at proposals for a reduction in the limit, the government said.
It would look also at alcohol abuse by underage drinkers, it said.
Other factors to be considered would be possible relationships between alcohol and domestic abuse and the examining of "evidence related to associated public safety benefits of staggering the times at which people exit licensed establishments".