Jersey care inquiry: 'Brutality and abuse at orphanage' claims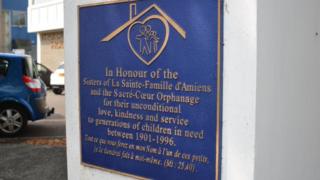 Claims of physical brutality, emotional and psychological abuse were made to police by children in a Jersey orphanage, an inquiry has heard.
Statements were read to the Jersey Care Inquiry into historical abuse at island child care institutions.
One man who was sent to Sacre Coeur Orphanage in the early 1940s said the nuns there were very cruel.
He said they would pull children by their hair, lifting them off the ground.
The claims were made to police as part of the Redress scheme which dealt with applications for compensation for historical sexual or physical abuse suffered by children in full-time States-run residential care.
'Sexually abused'
He also described how the nuns at the now-closed home would clutch a child's face and drive their nails into their flesh.
He described how one master used a bunch of keys for pain and punishment, striking boys on the head and drawing blood.
One witnesses said in his statement he was sexually abused by a 19-year-old former resident who was given a bed for the night beside him.
Another, who went to the home when he was six, described how a 13-year-old bully made him drink from a bottle containing urine after telling him it was lemonade.
A third said his arm was broken on one occasion and he was stabbed on another by three older boys who had picked on him.
The inquiry continues.