Jersey population fall could be 'disaster'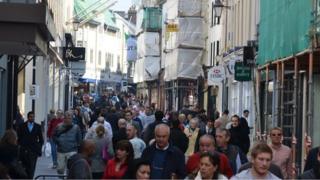 A falling population could spell disaster for Jersey, according to the chairman of the City of London's policy and resources committee.
Mark Boleat, who also chairs the Jersey Development Company, addressed the Institute of Directors on Thursday evening.
Earlier, he told BBC News existing population controls were already too tight and damaging to business.
Mr Boleat also said Jersey's education system was failing young islanders.
Every candidate in Jersey's forthcoming general election mentions population control in their manifesto.
'Incredible wealth'
"Jersey could easily have a much lower population and it would be a much poorer place," said Mr Boleat.
"Richer communities that are growing economically have a rising population. Communities that are declining have a falling population.
"A rising population brings challenges, a falling population can spell disaster. Ideally you manage the increase in population to minimise the adverse effects."
Jersey's education system is also failing to give young people the necessary skills required to fill the island's job vacancies, said Mr Boleat.
"The standard of state education is well below what it should be for an island of Jersey's incredible wealth," he said.
"If education and employment training was improved, more local people would get the jobs and Jersey would be less reliant on immigration.
"The education system is simply not adequate."
Jersey's newly-appointed director of education recently told the BBC his main focus will be on raising educational standards.