Condor Vitesse fatal crash appeal heard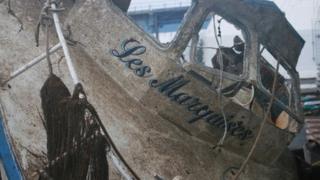 The captain of a ferry which crashed into a fishing boat, killing the skipper, has told a court he thinks about the collision and the man who died on a daily basis.
French skipper Philippe Lesaulnier was killed when the Condor Vitesse collided with his boat in Jersey waters in 2011.
Captain Paul Le Romancer and First Officer Yves Tournon were convicted of manslaughter and given suspended terms.
The French public prosecutor appealed the sentence saying it was too lenient.
Le Romancer, 58, from Strasbourg, was given an 18-month suspended sentence by a court in Normandy, northern France.
Tournon, 48, from Argenteuil, was given a 12-month suspended term.
The appeal hearing, which is being heard in Caen, Normandy, France, was told the ferry was travelling close to its maximum speed in thick fog east of Jersey when it crashed.
The officers were discussing a television programme moments before the crash, the court heard.
'No trace'
Lawyer Mathieu Leclerc, who represented one of the surviving crew members, said: "The conversations on the bridge were not compatible with the atmosphere which should have prevailed whilst a large vessel was travelling at high speed in fog.
"The speed was unbelievable - 37 or 38 knots. It was madness to sail at this speed."
Le Romancer and Tournon maintained they had seen no trace of the fishing boat on their radar.
The court heard that Le Romancer had been given early retirement after the accident.
He said: "It was horrible. I live with this every day.
"There is not one day that passes when I do not think of the man who died and of his crewmembers and of his widow and children."
The case continues.