Jersey Care Inquiry: Abuse allegations 'a conspiracy'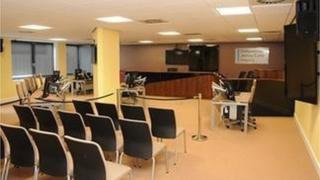 Abuse allegations against a couple who ran a children's home were "a conspiracy", the care inquiry has heard.
Jane and Alan Maguire ran the Blanche Pierre family group home in the 1980s.
A witness statement taken by police in 1998 from a former resident said the couple were not abusive.
Alan Maguire died in France in 2009 and BBC News has been unable to contact Jane Maguire.
They faced prosecution in 1998 for physical abuse but the case was abandoned due to insufficient evidence, and they left Jersey in 1999.
On Thursday the panel heard police witness statements taken at the time.
One anonymous witness said he had no complaint about the Maguires, whom he said took children on holidays and to restaurants.
"I'm not saying it was all rosy. If you misbehaved, you were punished," he said.
Haircuts and holidays
The man said children who misbehaved were grounded or had their pocket money stopped but were not hit.
"I feel sorry for the Maguires as I don't believe they have done anything wrong," the witness said in 1998.
"I still see the Maguires. I visit them every weekend."
That contradicted written testimony from another 1998 witness who claimed the first witness was in fact physically assaulted by Mr Maguire.
That witness said in one incident he had to physically pull Mr Maguire off the boy.
Police officers spoke to two other former residents at the time, who also described a regime of fear.
The first witness said, however, abuse allegations were "a conspiracy".
Another former Blanche Pierre resident said when the Maguires took over, it was the first time the children had proper haircuts and holidays.
"It was certainly much better than when the previous couple were running the home," their statement read.
The inquiry continues.