Ozouf retains Jersey senatorial seat after recount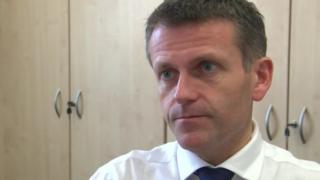 A Jersey senator has kept his seat after a recount saw a slight increase in the number of votes cast for him.
Sarah Ferguson requested the recount after coming ninth in the race for eight senatorial seats; some 262 votes behind Philip Ozouf, the final successful candidate.
Of 146,247 votes cast, she originally polled about 9,800 ballots to Mr Ozouf's 10,062.
In the recount, his vote increased by 18, while hers went up by nine.
Eight senators, 12 constables and 29 deputies were elected to the States assembly on 15 October.
Under Jersey's election laws, a recount can be ordered if the difference between candidates is less than 1% of the total votes.
About 140 volunteers and officials took part in the eight-hour recount process at the Town Hall on Saturday.
Ms Ferguson, who now leaves the States, said that although her vote hardly changed, it was worth it because it showed the electoral system worked.