Jersey politician in call for election observers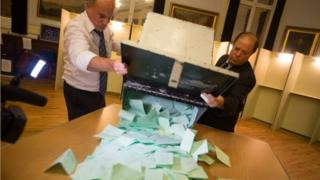 International election observers should be present during Jersey elections, according to a winning politician.
Senator-elect Philip Ozouf said having observers would give a stamp of approval to the work done by officials.
Mr Ozouf was an election observer in the Cayman Islands for the Commonwealth Parliamentary Association in 2013.
He retained his seat as a senator after narrowly beating fellow sitting senator Sarah Ferguson at the Jersey election on 16 October 2014.
Ms Ferguson requested a recount after coming ninth in the race for eight senatorial seats, 262 votes behind Mr Ozouf, the final successful candidate.
Of 146,247 votes cast, she originally polled about 9,800 ballots to Mr Ozouf's 10,062.
In the recount, his vote increased by 18, while hers went up by nine.
Mr Ozouf said international election observers would help reinforce the island's democratic standards.
He said: "The thing I am now going to be pressing for is for our law to be changed in Jersey to allow international election observers to be present for the whole of the election and not just the count.
"Then for the day after the election to make a statement as to whether or not the election has been carried out in a free, fair and accurate way."