Jersey joint plan needed to tackle 'smelly' seaweed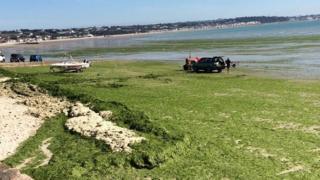 Seaweed, which smells and is putting people off visiting some beaches in Jersey, needs to be sorted out by "working together", officials say.
Constable of St Helier Simon Crowcroft said the weed was having an impact on the tourism industry, covering St Aubin's bay.
He said departments such as Transport and Technical Services and Environment needed to come up with a joint plan.
He added part of the solution would be tackling pollutants in the water.
Large amounts of sea lettuce have been blamed for making the beach smell and stopping people from going for walks on the sand.
'Clear blue waters'
A study commissioned by Transport and Technical Services and the Environment Department found more work was needed to understand what was causing so much sea lettuce at the bay.
Transport Minister Deputy Kevin Lewis said: "They have it in the UK, in France and in the United States of America.
"There is no permanent solution but we need to reduce it as much as we can. We all want clear blue waters and golden sandy beaches, it is how we get there that is the problem."
Constable Crowcroft, who is responsible for the island's capital and most populous parish, said part of the solution would involve tackling polluters putting nitrates into the water.
He said: "The more worrying problem is that a lot of the nutrients are coming into the bay from the sea."