Jersey chief minister aims to create new ministerial role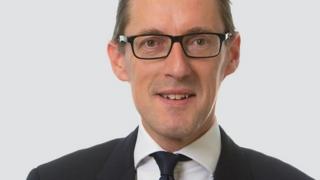 A new ministerial role could be created in Jersey's government to oversee financial services, the digital sector, competition and innovation.
Senator Ian Gorst suggested the move as he named his candidates for the 10 ministerial positions in the States.
His aim for the role is to initially appoint Senator Philip Ozouf as an assistant chief minister and give him responsibility for this portfolio.
Making it a permanent ministerial post would need States approval.
Mr Gorst has put forward Senator Paul Routier as his other assistant chief minister with responsibility for promoting social inclusion and developing population policies.
Proposed ministerial team
Treasury and Resources
Senator Alan Maclean
Health and Social Services
Senator Andrew Green
External Relations
Senator Sir Philip Bailhache
Transport and Technical Services
Deputy Eddie Noel
Home Affairs
Deputy Kristina Moore
Economic Development
Senator Lyndon Farnham
Social Security
Deputy Susie Pinel
Education, Sport and Culture
Deputy Rod Bryans
Housing
Deputy Anne Pryke
Planning and Environment
Deputy Steve Luce
Changes to the responsibilities of each ministry are also being proposed:
Education, Sport and Culture will become Education and Skills, in order to equip the workforce with the skills they need
Economic Development will bring together responsibility for tourism, retail, sport and culture, gambling, transport links, farming, business development and inward investment
Planning and Environment will take the lead on the marine environment and seas fisheries
Responsibility for Jersey Property Holdings will be transferred from Treasury and Resources to Transport and Technical Services
Voting on the changes is due to take place on Thursday.