Warning over wrong rubbish sent to incinerator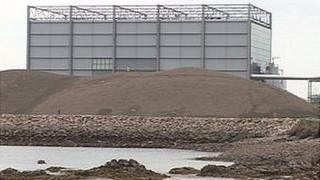 Non-combustible waste sent to Jersey's energy-from-waste power station has damaged equipment, prompting warnings from plant management.
Contractors have delivered car parts, gas bottles and commercial fishing gear for incineration.
Richard Fauvel, of Transport and Technical Services (TTS), says staff will now conduct random checks.
He has contacted customers, including parish authorities, asking them to sort waste properly.
Higher charges
The plant, which houses two incinerators, burns 70,000 tonnes of rubbish a year and can provide up to 7% of Jersey's power needs.
It is not open to the public and can only be used by private contractors or the island's 12 parish authorities.
Mr Fauvel said loads arriving at the incinerator will now be randomly checked and those containing inappropriate items will be rejected or incur higher charges.
"The [incinerator] is there for non-recyclable waste that can be burnt and provide energy that is fed into the island's energy supply," he said.
"For all other waste, we have proper recycling facilities. We seem to have a bit of a lack of understanding."
Mr Fauvel said it was difficult to apportion cost to the damage but said ball bearings, car parts and glass all shorten the lifespan of incinerator equipment.