Channel Islands Co-op board defends warehouse closures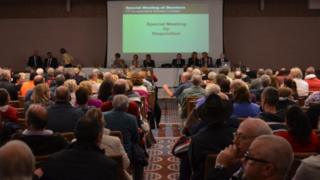 About 400 people have attended a special meeting of the Co-operative Society following calls for a vote of no confidence in the board.
About 50 members had demanded the meeting in response to the retailer's announcement of two warehouse closures.
Both the Guernsey and Jersey depots are slated to close with the loss of about 80 jobs.
Board members told shareholders the cuts were needed to protect the 1,000-strong workforce.
Shareholders Jason Cronin and Philip Johnson led the campaign for a special meeting.
Mr Cronin said: "I was surprised to hear of the closures of the warehouses in Jersey and Guernsey and I would have expected the board to make an announcement to the members.
"I'm thankful that the board explained their position but unfortunately I have this belief that a mutual society is an ethical employer and that a decent profit is all that is required.
"They've said they will make savings of £1m a year but that is from people losing their jobs."
Co-op president Ben Shenton told BBC News the decision was the hardest the board had ever taken.
"I think the meeting went well. It gave us the opportunity to explain our decision to members," he said.
"It's very difficult. Perhaps we should have called a meeting to explain what was going on."
Members heard warehouse operations would move to Andover in Hampshire but the change would only affect packaged goods as fresh food was already distributed from the UK.
The retailer's 70 local suppliers would not be affected, the board said.
Shareholders were asked to vote for or against the closures but the result will not be known until a similar meeting is held in Guernsey on Wednesday.