Dozens accused of historical abuse at Jersey care home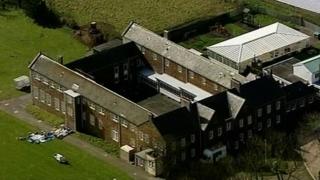 The full extent of abuse allegations at Jersey's Haut de la Garenne children's home was revealed at the Jersey care inquiry on Tuesday.
Some 140 former residents have come forward, the majority of them alleging physical and sexual abuse, the inquiry heard.
They accuse 72 individuals, including 40 former staff, of carrying out abuse between 1960 and 1986.
Much of the initial evidence was so harrowing it was redacted.
Almost 300 children passed through Haut de la Garenne from 1960 to 1968.
Testimony from one of them, now in his 60s and dubbed "Witness 195", was read to the panel on Tuesday.
Expensive car
Admitted to the home aged about six, the witness described a man who cannot be named, visiting the home most Saturdays.
The man, described as a "well-dressed smooth-talker", was not staff but began taking the boy out for excursions in an expensive car.
After a few initially enjoyable visits, according to the witness, the man began violently sexually assaulting him.
He said the assaults continued for more than three years, most Saturdays, and at various locations around Jersey, including at sea on the man's boat.
When his assailant lost interest, the witness said a new worker at the home, Thomas Hamon, then began sexually assaulting him in the home.
In 2005, Hamon was found guilty of 12 counts of indecent assault.
Inquiry counsel Patrick Sadd asked why staff at the home did not notice the boy was injured and distressed when he returned from excursions.
The victim said he was afraid to complain, but confided in a older friend who urged him to tell staff.
That friend hanged himself whilst at the home, possibly because he too was being abused, the witness suggested.
The inquiry continues.