Jersey charity food parcel handouts double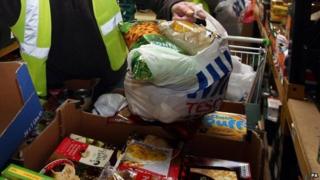 The number of emergency food parcels given out by a Christian charity which helps vulnerable people in Jersey has nearly doubled in less than a year.
The Grace Trust Jersey, which set up its food bank seven years ago, gave out 735 bags of groceries in 2013.
So far this year staff and volunteers have handed out more than 1,300 bags, managers said.
Vinnie Jones, from the charity, said it was not just jobless people who had been in need.
He said: "Quite a few people are working. They're not homeless but they're just really struggling to make ends meet."