JT Global broadband roll out delay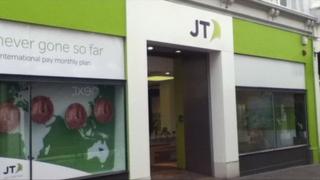 Plans to connect every home in Jersey to high-speed fibre-optic broadband by the end of 2016 may be delayed.
Graeme Millar, head of government-owned telecom company JT Global, said the delay was due to calls for a dividend payment.
In 2014, the then treasury minister, Senator Philip Ozouf, announced a £31m deficit in the budget.
He called for a £6m dividend from JT to boost government coffers.
Under Jersey law, the treasury minister is not able to present a budget to the states for debate with any deficit.
Senator Ozouf said some of the money would be found by asking States owned companies like Jersey Post and JT for a higher return on investment.
Third connected
Mr Millar said it would not be able to accelerate the broadband programme because of this payment.
He said the roll out of the fibre optic cable programme in Jersey was going well with 11,000 homes now connected - about a third of the rollout.
The money being paid in a dividend to the States had been earmarked for rolling out fibre optic cable.
The States of Jersey invested £19m in JTs island-wide fibre optic network, in part through a freeze on dividend payments.
Mr Millar said as a result it would not be able to speed up the programme over the next two years as it had planned to do.
He said he is currently reviewing the cost and how long it may now take to complete the roll-out.