Port Galots marina plan withdrawn by developers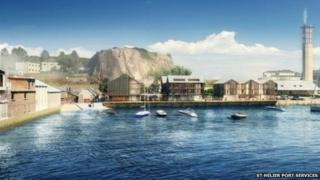 A controversial plan to develop St Helier's harbour has been withdrawn by developers.
The scheme, known as Port Galots, included a centre for the Jersey Sea Cadets and a number of flats.
More than 3,000 objectors voiced concerns about the impact on local businesses and the scale of the development.
Minister responsible, Deputy Eddie Noel, said they had listened to people's concerns.
"This is a project that has very much been led by trying to carry out the wishes of the States Assembly which agreed in 2011 it was time to find a home for the sea cadets.
"Port Galot was a good site and the home for the sea cadets and other maritime users could be paid for out of maritime gains on that site.
"It is clear from the amount of public opinion, we have listened, taken a step back and part of that means we will look at other potential sites to see what we can achieve that meets the requirements of the stakeholders concerned."
Louis Jackson, from the Fresh Fish Company, who led the campaign against the development, said: "That's marvellous news. It is fantastic. I hope from there they do something for the sea cadets but the Port Galot site is left alone completely.
"I hope they don't come back with an alternative plan for the site. I don't think that would be the right thing to do."
The project would have been built on States-owned land including 18 flats, new headquarters for the Jersey Sea Cadets, a marine academy and an enterprise zone.