Condor Vitesse first officer cleared of manslaughter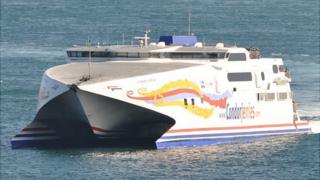 The first officer of a ferry that hit and killed a French fishermen has been exonerated by a French appeal court.
Philippe Lesaulnier, 48, died instantly when his fishing boat, Les Marquises, was hit by the Condor Vitesse, in Jersey waters, in 2011.
First officer Yves Tournon, 48, from Argenteuil, was given a 12-month suspended sentence for manslaughter, in 2013.
This was overturned after questions about the ferry's radar were raised.
Captain Paul Le Romancer, 58, was given an 18-month suspended sentence for manslaughter.
Both men were sentenced by the court in Coutances in September 2013 and Le Romancer's conviction has been upheld.
The Coutances prosecutor appealed to the higher court in Caen, suggesting the suspended sentences were not severe enough.
However, the court quashed Mr Tournon's conviction, due to uncertainties as to whether or not the Condor Vitesse's radar was functioning correctly, on the day of the tragedy on 28 March, 2011.
After the hearing, Delphine Lesaulnier, the victim's widow, said she was "disheartened and deeply disappointed".
She said: "It will always be a source of deep anguish and disappointment that justice has not been done in this case.
"I would, however, like to send a message of thanks to the people of Jersey for the considerable support they have given us since the accident."
French justice was described as "rotten" by the owner of the fishing boat, Pascal Le Guillou, who was on holiday at the time of the tragedy and was replaced by Mr Lesaulnier.