Temporary car park for St Helier Esplanade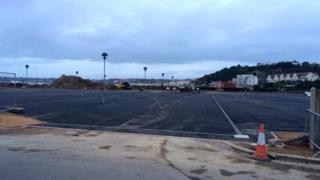 A temporary car park will be opened on St Helier's waterfront when the current Esplanade car park closes later this year.
The Esplande car park is due to be closed while a finance centre, complete with underground car park, is built on the site.
The temporary car park will be on States-owned land next to Cineworld, creating 170 spaces.
The Esplanade Car Park currently has 520 spaces.
Deputy Richard Rondel, who represents that area of St Helier, said the temporary measure would provide some spaces while the car park is shut.
The Esplande car park will be closed in stages, so no spaces should be lost with the temporary car park filling the gap.
The temporary car park will be linked via the western exit of the tunnel and should be finished by the end of January.
It will not open until building work starts on the finance centre in the second quarter of 2015.
The car park will then remain on the site until completion of the underground at the Jersey International Finance Centre.
The first two buildings and car park are expected to be completed in 2017.