MoneyVal Jersey financial assessments begins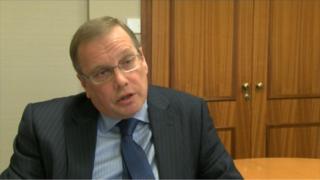 European assessors are in Jersey to ensure banks, trusts and crime units have the right systems in place to detect money laundering and financing of terrorism.
Independent experts from MoneyVal are analysing whether the island's systems are up to scratch.
There are 35 banks, 150 trust companies and 500 investment funds in Jersey.
The island had to make some changes following recommendations made in the last assessment in 2009.
The 2009 report said the financial sector regulation and supervision are of a "high standard" and "comply well" with international standards.
Further enhancements were concluded to be the business practice of "up-streaming" and the reliance that may be placed by Jersey businesses on third parties.
Money laundering
Paul Declat, vice president of the Jersey Bankers Association, said: "I hope we've addressed the areas which we knew they were going to be asking us to look at following their last visit - there may be a few observations.
"We hope to get a validation to say that we are truly at the top of our peer group and we are one of the best, if not the best, financial centre."
John Harris, director general of the Jersey Financial Services Commission, said: "Money laundering has always been with us, financial crime has always been with us and Jersey does a lot of business so by definition there will be some through the island.
"It's about deterring it in the first place and when it happens, identifying it and taking action.
"We have a proud record of taking action in that respect.
"This is important stuff. This is the ticket to the game of international finance services and without this ticket, you don't play."