Jersey warning over 'psychoactive' drug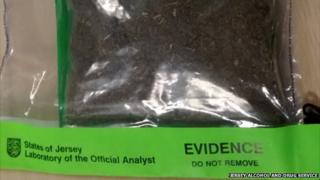 A "psychoactive substance" appearing on Jersey's streets has been linked to several deaths, the island's authorities have warned.
A spokesman for the police and the Alcohol and Drug Service said CHMICA or CHMINACA had "similar effects to cannabis, but is 100 times stronger".
He said: "[It was] linked to several recent deaths and hospitalisations in Europe, mainly Sweden."
The island's authorities have made the import and export of the drug illegal.
'Convulsions'
The spokesman said: "It must be stressed that there are currently no known deaths or hospitalisations in Jersey due to the drug, but it is important to raise awareness that it is circulating.
"Adverse effects also include convulsions, raised blood pressure, heart attacks and psychoses."
Michael Gafoor, director of the Alcohol and Drug Service, said: "This is one of the most dangerous synthetic cannabinoids that we have seen in Jersey so far because of the unpredictable and potentially fatal effects it can have."
He said if users were going to use a street drug, they should not do so alone, start with a low dose, not mix it with other substances including alcohol and if they feel unwell they should seek medical help immediately.