Jersey wreaths laid for 21 victims of Nazis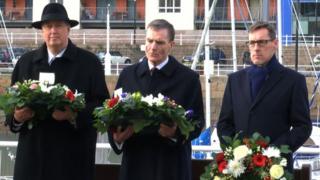 Wreaths have been laid to remember the 21 Jersey residents who died in Nazi prisons and concentration camps.
A service at the Occupation Tapestry Gallery and the Lighthouse Memorial, on which the 21 people are named, was held to mark Holocaust Memorial Day.
Dr Gilly Carr, from the University of Cambridge, was the main speaker and paid tribute to how islanders helped each other survive Nazi persecution.
She said some were treated more harshly because of their British nationality.
The 21 residents include some who had been released, but died due to the treatment they received during their time of imprisonment.
They had been imprisoned for various reasons including spreading anti-German news - including those who illegally kept radios - attempting to escape the island and sheltering escaped slave workers.
Dr Carr said Canon Clifford Cohu, who had been the rector of St Saviour, was a target of abuse, being beaten and called an "English swine".
Dr Carr said Gerald Domaille, who survived and wrote his memoirs, said he was denied extra food because he was British and was treated like "scum".
On her theme of helping each other she quoted Mr Domaille's memoirs when he spoke about being hit hard on his right ankle by the butt of a German rifle, possibly breaking it, during a forced march so he had great difficulty in walking.
He wrote: "Norman [Dexter] was great, he helped all the while … it was at this stage we found Walter [Laine] and another fellow named Sidney [Ashcroft]. Now there were four of us to help each other. Singly, I do not think any of us would have survived."
Holocaust Memorial Day was celebrated on 27 January as the camps at Auschwitz in Poland, where millions died, were liberated on this day in 1945.