Jersey broadband: Majority thinking of 'leaving JT'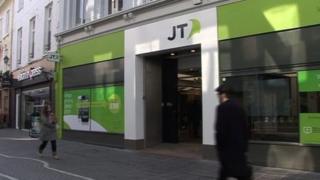 More than 60% of people who took part in a survey about broadband in Jersey say they may leave JT in the next year.
The biannual survey is produced by the Channel Islands Competition and Regulatory Authorities (CICRA).
JT, owned by Jersey's government, disputed the figures, calling on the regulator to publish its methodology.
The survey found 14% of Sure customers were thinking of changing operator and 26% of Newtel customers were also thinking of switching.
The survey of 500 islanders saw Sure come out top in customer satisfaction, with 77% rating them satisfactory or very satisfactory.
Charlotte Dunsterville, customer experience director at Sure, said they listened to their customers and made improvements.
Newtel got a 46% satisfaction rate and JT was rated 27%, down five percentage points on May.
CICRA say the UK standard to become a Which? recommended provider was a satisfaction score of 75% or higher.
JT's chief executive officer, Graeme Millar, said he stood by his three customer promises to guarantee free services if they did not deliver on service quality.
He said: "We have asked the regulator to publish both the full data, rather than a summary and their full methodology, so that firm conclusions can be drawn."