Jersey States spends £62,000 on bottled water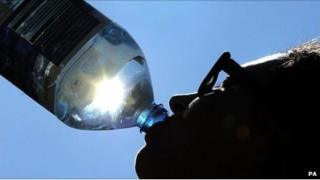 More than £62,000 of public money was spent by the States of Jersey last year on bottled water.
The figure was released to BBC Radio Jersey following a Freedom of Information request.
Deputy Andrew Lewis, chairman of the Public Accounts Committee, said every £1,000 of bottled water would only cost 49p from a tap.
Treasury Minister Alan Maclean said most of the bottled water was drunk in schools and hospitals.
He said: "It's children and patients and some visitors who have benefited from what they, I am sure, consider a high quality source of water.
"Departments need to focus on every expenditure and as we demand greater efficiencies these sorts of items will quite rightly come under significant focus."
Mr Lewis said: "We have good quality water so there's no reason why we couldn't invest in filtered taps and drinking fountains."