Jersey Liberation Day event moves to People's Park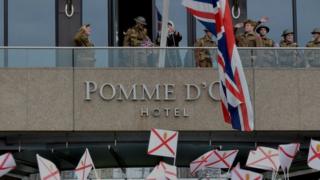 Liberation Day festivities will be based at Jersey's People's Park instead of Liberation Square.
It means there will be no re-enactment of the flying of the Union Flag at the Pomme d'Or Hotel.
Organisers say moving the venue means it will be much easier for large numbers of people to watch and to take part.
Liberation Day marks 9 May 1945 when the island was freed from German occupation after five years.
The liberating soldiers raised the Union Flag from the former German headquarters which later became the island's tourism building.
The soldiers then flew a flag from the balcony of the Pomme d'Or, to the delight of the cheering crowds.
For many years the scene has been re-enacted, with soldiers and cadets dressed in uniforms similar to those worn at the time.
Organisers say Liberation Square is too small for the number of people they are expecting so they have moved it to People's Park - scene of the first Liberation Day festival in 1946.
A spokesman from the Bailiff's chambers said it would be a much bigger event than usual, with activities and a theatrical production.