Jersey economy 'risks going into red'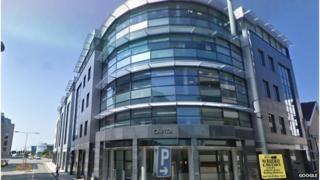 Jersey's economy is in danger of going into deficit by 2018 as the gap between tax receipts and spending rises, officials have warned.
The corporate services panel in Jersey says income from the banking industry, the island's main earner, has fallen 33% since 2008.
Its report said there had also been a 5% fall in income from other industries, since 2008.
The panel said the States needed to cut its spending to balance the books.
The offshore banking industry provides about 40%, or about £1.5bn, of the island's income, according to the latest available statistics from the States of Jersey.
'Consider health charge'
In its report to the States, the panel said: "Jersey's economy has long depended on financial services for economic growth.
"Unfortunately, the global financial crisis of the late 2000s appears to have left an indelible mark on the island.
"Because of the economic situation the island now finds itself in, the panel is of the opinion that difficult and hard decisions will need to be made now in order to ensure our current and future prosperity."
Panel vice chairman Deputy Simon Bree said: "Unless the Council of Ministers really addresses the cost savings that they have said they are going to make then this gap between income and expenditure will get wider and we are going to be running a deficit."
Treasury Minister Senator Alan Maclean agreed that departments had to look "very closely" at delivering services cost-effectively.
But he warned there could be tax rises because the States also faced "significant" increased costs, including an extra £50m in funding for health care.
"If we still can't meet the gap between income and expenditure there needs to be debate about funding and whether it would be appropriate to consider a health charge," Mr Maclean said.