Jersey pupils 'could be hit by education budget cuts'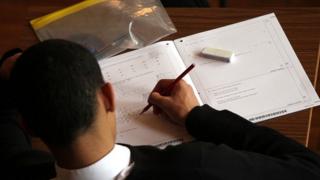 Children's education in Jersey could be affected by budget cuts, according to the education scrutiny panel head.
The education department has been asked to find £10.7m worth of savings within the next four years.
Deputy Louise Doublet, chairwoman of the education scrutiny panel, said the sector was already streamlined.
Treasury minister Senator Alan Maclean, said he did not expect frontline services to be cut.
Senator Maclean said: "We won't cut frontline services, unless it is not being delivered efficiently, where public money is not being spent well, then they will have to do something about it to make it more efficient.
"I would be utterly amazed if there wasn't opportunity to drive efficiencies. Health and education may well need more money in the future, but that could come from money saved through efficiencies elsewhere in the departments."
Ms Doublet said education was already an efficient department, she said she had been told by the education minister, Deputy Rod Bryans, that there was not much fat to cut.
She said: "The worry is, where are those cuts going to hit?"
Each department had been asked to see what the savings would look like for them and then report back, Mr Maclean explained.
He said: "Education, health and the economy are three priorities identified, that doesn't mean efficiencies can't be found.
"We have significant savings to make across the piece, they won't all come in a uniformed way as a percentage the same in every department."