Jersey government services to go online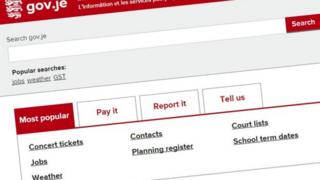 Tax and social security will be the first services to go online as part of Jersey's e-government project, according to the treasury minister.
Senator Alan Maclean said the aim was to put 75% of states and parish services on the internet within five years.
The project was criticised by the technology sector in Jersey, saying it was in a mess.
Mark Loane, Digital Jersey board member, said the project had stopped.
Mr Loane, who is the chief executive of C5 Alliance, one of the island's biggest IT companies, said the £7m project just came to a halt.
'No ownership'
His company had not bid to be the lead on the States e-government project.
He said: "What is frustrating is the clear lack of ownership, lack of vision when it comes to the implementation of the e-government programme.
"It has got to come to ownership, from political ownership to chief officer ownership."
Jonathan Williams from States of Jersey, said it was fully committed to the project, despite failing to find a lead partner during a lengthy procurement process.
He said it was investing in the programme and will reconsider its objectives and approach.
Senator Maclean said the delay was because they had not found a suitable leader yet, but had re-set the tendering process.
He said: "There are plenty of examples where IT projects, particularly large ones, cost a lot of money and don't necessarily deliver.
"I think if you identify a lead partner that it is not necessary going to deliver on the object, do you carry on a waste money or stop and reset?
"Our decision was right, in my view, and that was to stop and reset."