Mario Lundy 'physically abused' victim, Jersey care inquiry told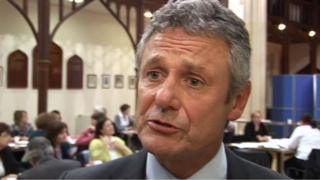 A former resident of a secure residential school in Jersey had told an inquiry he was "physically abused" by a former education department boss.
The man, known only as Witness 145, said Mario Lundy had targeted him while he was at Les Chenes school from 1981 and 1985
Giving evidence anonymously, he said two other members of staff had also assaulted him during his time there.
But another witness said alleged victims were "stirring trouble".
Witness 145 described Mr Lundy, who worked at Les Chenes at the time, as "vicious".
He told the inquiry another member of staff was "free with his fists" and described another as "a drunk".
Inquiry counsel, Patrick Sadd, also asked Witness 145 if he had organised a meeting of former Les Chenes residents in 2008.
He said he had attended, but left early because others at the meeting were "drunk or stoned".
A statement from a different witness said Les Chenes staff were good teachers, and organisers of the meeting were "stirring trouble".
The hearing, which is investigating claims of child abuse in Jersey's care system, continues.