Feeding fields 'needed for Jersey winter birds'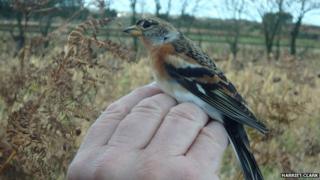 There should be a network of bird friendly feeding fields across Jersey, according to conservation group Birds on the Edge.
Hundreds of birds have been flocking to a field in St Ouen that was planted with winter bird crops by farmer Steven Baudains.
Dr Glyn Young from the Birds on the Edge campaign said this should be expanded to create feeding areas.
Farmland birds like the skylark are suffering steep declines.
Dr Young said: "This project is fundamental to the survival of these birds. Over the past 20 years we have seen a massive decline of birds in fields like this."
Bird expert Cris Sellares said some winter birds could be fed in gardens but others, such as the linnet and meadow pippet, would not go into a garden.
She said: "Their continuing survival is in jeopardy due to lack of food in the agricultural land they inhabit.
"In the past, spilt grain from less effective machinery, stubble fields left until the spring and land rotation would have kept them going, but these features are not so common in modern farming."
In Jersey this problem can be exaggerated by the fact fields are ploughed in the new year and potatoes planted. They are then covered in plastic.
To counter this problem, Birds on the Edge has been working with farmers to create feeding fields.
Ms Sellares said: "We contacted farmers that plant land where we think it is going to be good for the birds. We then give them a seed to plant at the end of their potato season.
"The seed mixture grows a variety of cereals and grains that the birds feed directly from."
Since January about 100 to 600 birds have flocked to the field in Les Landes to feed. There have been linnets, reed buntings, goldfinches and brambling.