'Miserable' Jersey anthem needs replacing, athlete says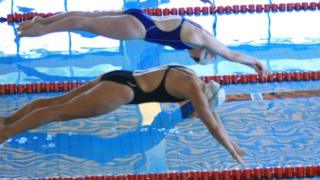 A Jersey athlete has called for the island's "drab and miserable" anthem to be replaced by something more upbeat.
Shooter Steve Bouchard wants Gerard Le Feuvre's Island Home, voted as Jersey's anthem in 2008, dropped for the forthcoming Island Games.
He said it sounded like something that would be played at a funeral, not a medal ceremony.
Mr Le Feuvre was unavailable to speak and the Island Games Association declined to comment.
The song won the competition to find an anthem to be used at special events, including sporting occasions.
According to the Jersey States website, where a choral version of the anthem can be heard, the melody references "the lowing of a Jersey cow" and "various island sea birds".
But former Island Games medal winner Mr Bouchard said: "The island is lively and vibrant and the current anthem portrays nothing of that.
"This is a huge event and we need something to stir people up and be proud of Jersey."
The Island Games will be held in Jersey this summer with 24 competing islands or island groups with about 3,000 competitors.
Mr Bouchard added: "We are going to win medals this year and we want something that people can be proud of.
"Getting a medal should be a joyous occasion and it would be a missed opportunity not to change the anthem before the games."
Former health minister Jim Perchard said "It will never be the people's anthem. Island Home has gone down like a lead balloon at Liberation Day parades.
"It is certainly not suitable for proud athletes."