Jersey education to use report to decide on cuts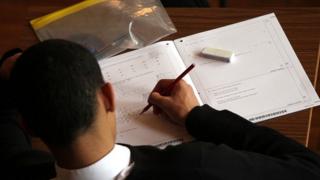 A report into further education in Jersey will help decide how to make budget cuts, according to the minister.
The States of Jersey has published a comparison of post-16 education results for the first time.
It found that while fewer young people study for an academic qualification in Jersey than England, the ones that do get better results.
Education Minister Deputy Rod Bryans said the States had to save up to £10m over four years.
Mr Bryans said it was possible to raise standards while saving money.
"For us raising standards isn't just about costs but it is about realigning what we are doing so everybody fully appreciates what we are attempting to achieve," he said.
"Everybody in education is focused on achieving those results and it isn't necessarily all about money."
The figures show just over half of young people in Jersey aged 16 and above continue in education compared to nearly two-thirds in England.
Director of Education, Justin Donovan, said having more detailed information would allow them to target savings.
He said: "We will be very careful where we make those savings, we will make them in areas which will have the least impact on young children and frontline services.
"Secondly we will make better usage of the resources we have got. One of the things that allows us to do that is by having better information on the progress of children."
The statistics also found Jersey pupils score an average of 222 points compared to 215 in England.
The report found that about 20% of pupils do a vocational qualification, with most focusing on finance.