Jersey farmer's native oyster success could be 'worth millions'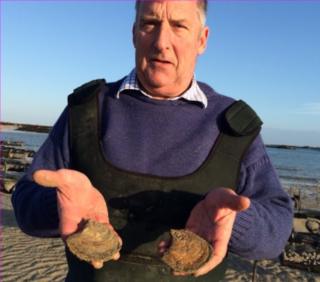 An oyster farmer who has become the first to successfully farm rare native oysters says the industry could be worth millions to Jersey.
Tony Legg developed a method of farming them and now produces thousands of tonnes of shellfish from his oyster beds near Green Island every year.
Native oysters used to be common in North Western Europe but overfishing in the 19th Century led to their decline.
He said he was working with companies across the British Isles.
Mr Legg, a marine biologist and expert in oyster farming, said: "It is an encompassing thing, it is not just a me thing.
"It has also gone beyond Jersey as I have been asked to work with Irish, Welsh and Scottish shellfish farmers to create schemes like this."
He said the industry could be as big as the Jersey Royal [potato] industry but with a much smaller footprint as Jersey was already a major player in oyster farming.
Jersey Environment Minister, Deputy Steve Luce, who has previously worked in the oyster industry, said he wanted to make sure farming practices did not damage the environment.
He said: "I don't think it is something we will do overnight, it would be a seriously major change in the way we use our beaches but it is really good news and government will do everything it can to help."
Mr Legg uses swinging boxes to farm the oysters and currently has two million growing on the beach.
He and other oyster farmers are expecting to find out this week whether they have received the international Aquaculture Stewardship Accreditation, which aims to be the world's leading certification and labelling programme for responsibly farmed seafood.
Jersey was a major oyster exporter in the past. About 200 years ago, the oyster bed spread from Jersey to Granville in France. Gorey Harbour was built with the industry in mind.
John Le Seelleur, from Seymour Oysters, said: "Jersey has a very good tidal range, a very good environment for growing oysters. In England they grow them in tidal estuaries and can take up to four years for them, here it takes about two."