Jersey health say no plans for cigarette pack change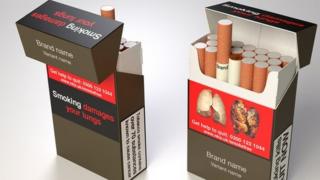 There are no plans for Jersey to follow England in enforcing plain packaging for cigarettes, according to the health improvement officer.
On Wednesday UK politicians voted by a majority of 254 in favour of standardised cigarette packets.
If agreed by the House of Lords, from 2016 every packet in England will look the same except for the make and brand.
Martin Knight, from Jersey Public Health, said more work was needed before it could come to Jersey.
He said: "We don't have plans for plain packs but it is something we will consider in the future when we review our strategy.
"There is strong evidence it is something we should introduce, but people need to consider what impacts there will be."
The Irish Republic passed a similar law earlier this month and Australia has had plain packaging since 2012.
In 2014 Jersey became the first place in the British Isles to ban smoking in cars carrying children. It also has a ban on drivers aged 17 smoking behind the wheel.
About 20% of people in Jersey smoke, and there is already a ban on smoking in enclosed places.
Mr Knight said: "We are seeing more young people not taking up smoking. In 1998 around 53% of young people had never tried smoking, that is up to 84% as of 2014."
In 2014 companies were banned from displaying tobacco products including at the airport.