Jersey student loan scheme plea by campaigners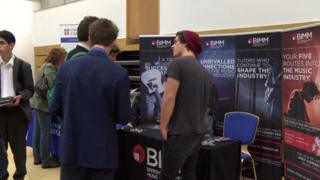 A generation of young people could miss out on the chance to go to university unless student loans are introduced, according to a campaign group.
Jersey has a grant system for students in lower income households, but campaigners say there is no support for people who do not qualify.
The Student Loans Support group wants a bespoke loan system for the island.
Education Minister Deputy Rod Bryans said they were examining a range of options.
He said they would not want to introduce a system the same as the one in the UK, calling it a "broken model" that could leave behind a debt of £100bn by 2020.
"I wouldn't wish for any student to be put under that pressure, the consideration that you load a student with £50k worth of debt and try to reclaim that at some point. We see it as a disincentive for students going to the UK to come back to Jersey at some point," he said.
Fleur Sharman, from the campaign group, said the costs of higher education can really add up.
She said: "On top of your maintenance you would have in the region of maybe £3,000 living costs, then you have your flights to get to university, your travel.
"It all adds up so I think to make it a fairer system the States should consider a loan of £9,000 for all students or many will not be able to afford to go."
According to the latest income report, Jersey's average income is about £35,000 per year.
There is no student loan scheme in the island and the grant is means tested based on household income.
If household income is below £26,750, a student would be likely to get the full costs of tuition fees and a maintenance grant of up to £5,500.
A household with an income of £98,355 or more would not qualify for a student grant.