Jersey terror charge man gets 18 months probation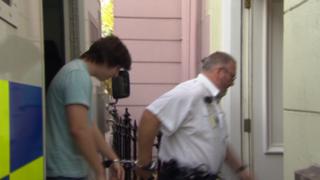 A Jersey man charged with terrorism offences has been sentenced to 18 months probation by the Royal Court.
Mark Alexander Harding, 21, of Grouville was charged with offences including possessing a magazine that promotes terrorism and publishing bomb-making instructions online.
The court heard he has Aspergers Syndrome and the activity was related to his disorder.
Judge Sir Michael Birt said it was clear he had not been radicalised.
Harding initially pleaded not guilty to offences but changed his plea before sentencing in March.
He has been in custody since his arrest in October when he was arrested by armed police at his family home in Grouville.
'Need for treatment'
Defending, Advocate Mike Preston, said it was not about terrorism.
He said: "This is not about terrorism or Islamic State, it is about a young man who has a condition, it is about autism and the need for treatment."
The former Victoria College pupil was a regular on the 4Chan website where he posted under the name Sheikh Suleiman al-Britani with a Jersey flag next to his name.
He is said to have claimed on the 4Chan website he was planning to join Isis in Syria.
The court heard Harding posted more than 5,000 comments online in relation to Islam.
In sentencing, Sir Michael said: "What you did was related to your disorder, you are an intelligent young man who does not hold extremist views.
"All the reports have recommended you get treatment and I agree."
Harding has been released from custody, having already been held for seven months.
The magazine he took the bomb-making information from is banned in Britain under the Anti-terrorism, Crime and Security Act 2001.
In Jersey, it falls under the Terrorism (Jersey) Law 2002 and sharing its contents is also illegal.