Jersey men's refuge founder Colin Taylor gets medal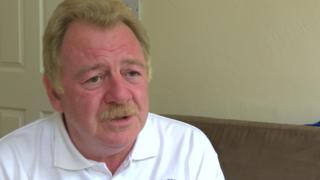 The man who set up Jersey's first refuge for men has been awarded the British Empire Medal.
Colin Taylor was awarded the medal at a ceremony in Jersey for his work with homeless people in the island.
Mr Taylor, who was too ill to travel to England to collect the medal from the Queen, was presented it by Jersey's Lieutenant Governor, Sir John McColl.
He was one of the founders of Sanctuary Trust, set up in 2011 to give men going through a crisis somewhere to turn.
The charity now runs two shelters for up to 24 men, giving them emotional support and help finding work as well as a place to stay.
Mr Taylor has also been involved in setting up an almshouse in St Aubin providing a long-term home for islanders who do not have enough money.
Former chief minister and a trustee of Sanctuary Trust, Frank Walker, said the award had given Mr Taylor something to look forward to through his illness.
He said: "Sadly Colin is very seriously ill but this has given him a focus. He is very proud he has been honoured in this way and it has given him a focus to help him with his illness.
"This has really given him something to get excited about, to get his teeth in to and look forward to."