Jersey sea life warning over big tide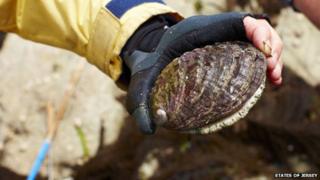 People making use of the weekend's big tides to fish or collect ormers in Jersey have been warned to monitor the size of catches.
Environment officers say they will be on patrol checking fishermen correctly measure their catches.
There will be some of the biggest tides of the year in Jersey this weekend with a rise of about 12m (39ft).
Ormers are a type of sea snail also known as abalones and are a local delicacy.
During the ormer season in Jersey from 1 October to 30 April hundreds of people harvest the molluscs at low tide.
Rules govern how the rare molluscs can be collected and those taken must be a minimum of 9cm (3.5in) long.
A spokesman for the Environment Department said: "It's against the law to take fish and shellfish below a certain size.
"You're also asked to replace any rocks you lift to limit damage to the seashore.
"And if you're exploring the coastline you're advised to check the tide times so you don't get caught out by the rising water."