Jersey occupation survivors 'needed consulting on plans'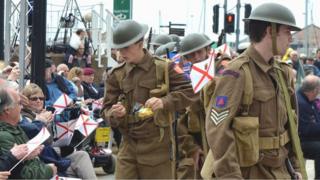 Occupation survivors should have been consulted over changes to Liberation Day celebrations, says Jersey's chief minister.
Plans to move the service for the 70th anniversary of liberation from Nazi occupation had been criticised by people who lived through it.
Some threatened to boycott the event over plans to move it from Liberation Square to People's Park.
Senator Ian Gorst said this should have been discussed more widely.
The Channel Islands were the only part of the British Isles to be occupied by Germany during World War Two, before being liberated on 9 May, 1945.
Traditionally, there is a re-enactment of the moment of liberation in Liberation Square with a service of remembrance.
The event has increased in popularity over the years and so politicians decided to move the event to the larger People's Park.
Organisers say they will press ahead with changes but are reviewing plans for Liberation Square including an extended re-enactment.
Former politician, Terry Le Main, who was alive during the occupation and walked with British soldiers from the harbour on the first Liberation Day, said the plans were disappointing.
He said: "I have been inundated with calls, with people stopping me wherever I go. We are very angry and very disappointed."
The Bailiff's panel, which organises the event said: "The basic programme at People's Park will be maintained but programming, which may include Liberation Square will be reviewed."
Senator Gorst said: "Perhaps something we have learned from where we are in this process, is that we need to develop a mechanism that would consult with survivors as well."