Jersey parliament moved after fire alarm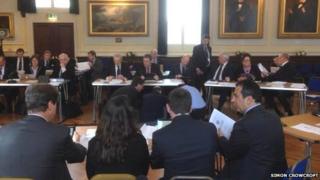 A fire alarm in the Jersey parliament forced politicians evacuate the building earlier.
The meeting was suspended because of an electrical fault. Members will return to their normal building on Tuesday.
Engineers were already working on a suspected fault when a panel, a lamp and computer started smoking and triggered the fire alarm.
The States Assembly meeting was moved to the St Helier Town Hall, believed to be a first in modern times.
It was the last sitting before Easter and happened during a debate on funding for the Jersey Independent Care Inquiry.