Heroin worth £370k seized in Jersey raids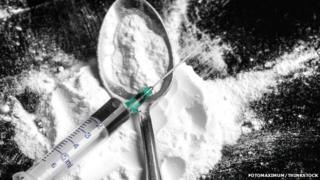 Heroin worth about £370,000 has been seized during two raids in Jersey.
On Saturday a search of a property in St Helier found about £250,000 worth of heroin.
A 21-year-old was arrested in connection with the seizure and has since been charged with possessing a controlled drug with intent to supply.
On Thursday, about £120,000 worth of heroin was found in a guest house in the parish. Two men, from the UK, have been charged with importing the drugs.
Significant seizure
Mark Cockerham, director of law enforcement, said: "It's been a busy first quarter in 2015 at the borders with a variety of drugs including heroin, cocaine, psychoactive substances and cannabis being encountered through a variety of methods.
"The recent heroin seizures are significant in that it will have prevented widespread distribution within the Island."
The most recent figures from 2013 show 130 separate drug seizures were made in Jersey, with about £2.3m worth of drugs seized.
The States said cannabis had accounted for almost 91% of the total that year.