Racing Jersey driver 'possibly killed by headrest'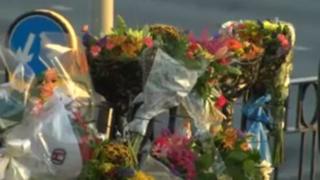 A driver who died after losing control of his car during an illegal race along Jersey's main road may have been killed by his headrest, an inquest has heard.
Vitor Fernandes, 22, originally from Madeira, died from a severe injury to the back of his head, the inquest concluded.
This was after his car spun across the Victoria Avenue carriageway and hit an oncoming car.
He had been racing his friend when he died on 30 December 2013.
Mr Fernandes was pronounced dead at the Jersey General Hospital later that day.
His friend Jose Joao Santos Silva was later jailed for dangerous driving.
Deputy Viscount Mark Harris said the pair had been part of a group racing each other earlier. The pair were spotted travelling at nearly 80 mph along Victoria Avenue before the crash.
Mr Fernandes lost control near First Tower and his car spun across the carriageway, flattening a sign post and hitting an oncoming car.
The inquest heard the driver of that car still suffers today from her injuries.
It had not been possible to say how fast Fernandes had been driving at the time of the crash, or why he lost control, the inquest was told.