Jersey firefighters rescue Rodney the racehorse from a ditch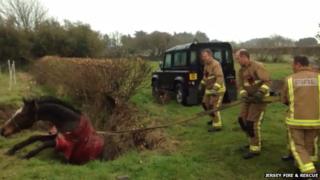 Firefighters rescued a retired racehorse from a ditch on Friday after he got stuck on his back.
Rodney was stuck for about an hour and a half in a field off La Rue du Sud in Jersey.
The 18-year-old was comforted by his owner Loraine Rolland as Jersey Fire and Rescue crews pulled him free from the ditch.
Thomas Rolland said after the event: "Rodney seems to be fine, apart from being a plonker."
A vet from New Era was called to attend to help give advice and deliver any treatment necessary.
Station Commander Marc Le Cornu said: "Rodney seems fine apart from an initially sore leg and the crews and owners were delighted to see him back on his feet in his field.
"These types of rescues are always challenging and really make us think outside the box on how best to achieve a successful rescue."