Joao Pedro Santos: Sentenced to seven years after cold case review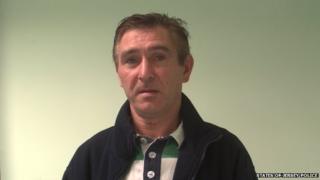 A man has been sentenced to seven years in prison for the attempted rape of a 21-year-old woman 17 years ago.
Joao Santos, 46, was arrested after a cold case review by the States of Jersey Police.
Santos, born in Madeira, pleaded guilty to attacking the woman in a field in St Saviour in February 1998.
In Jersey's Royal Court, he was sentenced to a minimum of five years for two counts of indecent assault and one count of attempted rape.
Police have been revisiting a number of historical unsolved sexual attacks on the island.
'Terrifying, degrading ordeal'
Commissioner Julian Clyde Smith told the court that for the victim: "It was a terrifying, degrading ordeal at the hands of a stranger."
In a statement, a spokesman for the States of Jersey Police said: "Joao Santos believed he had escaped justice for almost two decades, carrying on with his life while his victim suffered the effects of his brutal assault for many years.
"She was incredibly brave at the time and has shown tremendous courage in recent weeks and months and we would like to thank her for that.
"What this shows is that the passage of time does not mean a case has closed for our officers. Advances in forensics and technology mean the force can still catch those guilty of horrific crimes decades later.
"I would like to think it sends a clear message to criminals, like Santos, who may think they have got away with it but you never know when we will be banging on your door."