Jersey to offer Meningitis B vaccine to children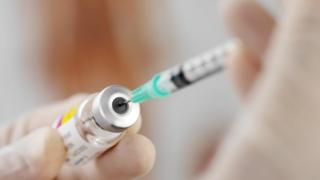 Jersey's health department is planning to introduce the Meningitis B vaccine to children on the island.
The States of Jersey said it can get the vaccine at the same discounted price as the NHS with drugs company GlaxoSmithKline.
The UK government advised that every child over two months old should be given the vaccine, but negotiations over costs had delayed the process.
Jersey's Dr Linda Diggle said children will have a high level of protection.
'Same protection as UK'
Dr Diggle, head of healthcare programmes at the States, said: "These infections don't stick to borders or geographical areas so we know that the patterns of infectious diseases are the same in Jersey as they are in the UK.
"We would expect that - we do plenty of travel between the UK and here so we're very similar.
"It's only right we should be able to offer children the same protection they get as in the UK."