Overcrowding fears over St Helier housing plan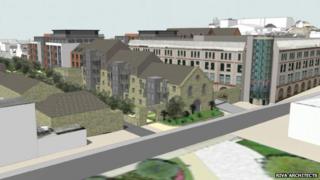 A heritage group has said plans for a large housing development in St Helier will see people living "like sardines".
The plans by developer Castle Properties include 183 homes on the site of the former Play.com warehouse.
It would include underground parking and landscaping but would require the demolition of a granite warehouse.
Save Jersey's Heritage president Marcus Binney said it seems like the States are trying to move as many people as possible into St Helier.
Ian Alder, from Riva Architects, said: "There are some buildings that can't be maintained, but where we can we are using the existing structures.
"The granite warehouse, we are keeping. It isn't listed but it is an important building that is part of our site and the wider area."
This is the second large housing development planned for the area around St Helier town park.
The other, already approved, will see nearly 300 homes built on the Gas company site.
A spokesman for the Department of the Environment said it was still an active planning application and all comments would be considered when making a decision.
Mr Binney said: "We are not opposed to some housing on the site, but the scale of what is proposed is overwhelming.
"It is starting to look as if the aim of the States for St Helier is to cram residents into boxy flats like sardines."
Save Jersey's Heritage wants the developers to consider ways to make use of buildings on the site.
Chairman Advocate Christopher Scholefield said: "St Helier faces a clear choice. Is it to become some sort of watered down Gotham City or to witness a genuine revival of urban living?
"Blocks of flats on this and other urban sites will not lead to a real regeneration or encourage a vibrant community."