Zero-hours contracts help drive Jersey job increase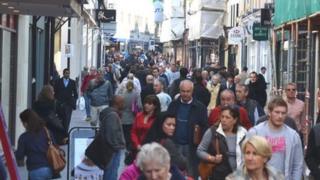 Zero-hours and full-time contracts are driving an increase in employment in Jersey, a new report has revealed.
The annual Labour Market Survey has found there were about 2,000 more jobs in the island in December 2014 than the previous year.
The rise is due to an even split between more zero-hours and full-time contracts in the private sector.
At the end of 2014 employment stood at 57,250 with over a fifth of islanders working in the finance sector.
James Filleul, president of Jersey Chamber of Commerce, said zero-hours contracts allowed employers to be more flexible when taking on staff.
"From the employer's point of view there's a job there which might not have been," he said.
"It's the abuse of zero-hours contracts that's the problem and that's what we don't want to see."
The report revealed unemployment was the lowest it has been in more than three years with 1,460 people actively seeking work.
During 2014 employment in the finance industry increased by 400.
The chief executive of Jersey Finance, Geoff Cook, said it showed "a more consistent upturn for the finance industry and an indicator of new business being generated which is good news for the economy".
---
•Total employment stood at 57,250 in December 2014
•Total employment increased by 1,980
•The rise was driven by the private sector
•Zero-hour and full-time contracts increased by about 1,000 each
•1,460 people were "actively seeking work"
---