Job cuts 'to tackle Jersey's £125m shortfall'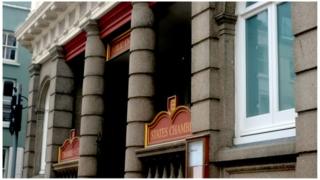 Job cuts and charges for services are to be made by Jersey's government to tackle a predicted £125m shortfall.
Services will be "redesigned" to be more efficient and vacant staff posts will not be filled.
Treasury Minister Senator Alan Maclean said they hope to save £60m per year in staff costs through voluntary redundancies.
He said there was a shortfall in income over what was originally predicted as part of the three-year financial plan.
Senator Maclean said: "We are focusing on 2019, we have profiled the expenditure for key priorities and by 2019 we are seeking to have a balanced budget."
In 2014, there was a shortfall of £35m, and £50m in 2015.
The government predicted the gap, between what needs to be spent and predicted income, could increase to £125m by 2019 if no action was taken.
'Minimise compulsory redundancies'
Deputy Geoff Southern, of Reform Jersey, said the shortfall was "lethal" and "austerity written with a big capital A".
---
Ministers plan to use a variety of measures to ensure funding is available for their priority areas.
Boosting economic growth, encouraging business start-ups and creating jobs
Working with staff and unions to restructure the public sector
Ceasing to provide some services and redesigning others
Merging departments
Exercising pay restraint
Reducing duplication
Removing unnecessary regulations
Providing flexible office accommodation for staff
Changes to benefits - promoting financial independence
Investigating options for a health charge
---
Senator Mclean said "key spending pressures had to be addressed", but investment was also needed in "key areas like health and education".
Exactly how many jobs would be lost or what the charges will be remain under discussion, he said.
The States said taxation had not kept up with what it costs to run the government, but there were currently no plans to alter the tax system.
However, a possible health charge will be explored as the costs of services increase.