Jersey cows 'may be beef source' in India's Maharashtra state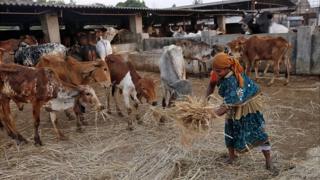 Jersey cows have been suggested as an alternative to India's locally-bred cattle as a food source for Muslims.
It comes after new laws banning the killing of cattle and sale and consumption of beef were introduced in Maharashtra state last month.
According to reports, the All India Milli Council, which represents Muslims, suggested the Channel Island dairy cow could be an alternative.
But, the Indian government said every cow was sacred whatever its breed.
Hindus, who comprise 80% of India's 1.2 billion strong population, revere cows and as a result, the sale and consumption of beef is banned or restricted in many of the country's states.
The change in law in the western state of Maharashtra, which includes India's commercial capital and largest city Mumbai, has already led to prosecutions.
The Jersey breed, well-known for its milk production, has seen renewed popularity around the world since the relaxation of Jersey laws allowing the import of bull semen and export of cow embryos.
At the same time, the number of pure-breed Jersey cows kept on their Channel Island home has fallen to 5,000.