Jersey public sector pay freeze announced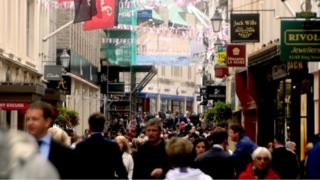 A pay freeze for public sector staff has been announced by the States of Jersey.
The one-year settlement, discussed with unions earlier, excludes nurses and midwives.
The freeze follows the announcement of job cuts and charges for services to tackle a predicted £125m shortfall.
Unions said they were "deeply disappointed" by the announcement. The States said the freeze would "minimise redundancies".
'Bear the brunt'
Chris Keates, general secretary of the teaching union NASUWT, said the move was of "deep concern".
"It is completely unacceptable for the States Employment Board to expect teachers and other public sector workers to bear the brunt of the States' austerity measures," he said.
"Teachers and other public service workers will be justifiably shocked and angered by this development, particularly when changes to the tax system that are favourable to businesses have contributed significantly to the current financial situation."
All nurses and midwives would receive a consolidated increase in their basic rates of pay and allowances of 0.4%, the States said.
Bob King, from union Prospect, said he was "shocked".
"Our members have worked tirelessly to assist in efficiencies right across the civil service," he said.
"We will continue to press for the States to change their stance and to enter into negotiations."
States Chief Executive, John Richardson, said: "We know this is not easy or welcome news for employees but with the challenges we face, the States Employment Board determined a general increase in pay for 2015 cannot be justified and pay restraint will be key to minimising the need for redundancies across the States."